Posted by Facundo Oviedo on 28th Dec 2021
"Made in Spain" Design stands out for its innovation and elegance, that is why it draws attention from the other side of the pond. Estiluz is no exception. Originality and innovation are the concepts on which each of the products of this brand is based, which has been recognized with numerous design awards around the world becoming one of the most desired by the public. Estiluz is a brand that has been able to develop products that have quickly achieved worldwide fame and recognition from the most prestigious design publications.
In 2016, the spanish brand Estiluz presented a collection that revolutionized the market and set a trend among lighting brands and in the world of decoration and interior design: Volta, a family of luminaires of almost mystical beauty and extreme functionality designed by Nahtrang Studio.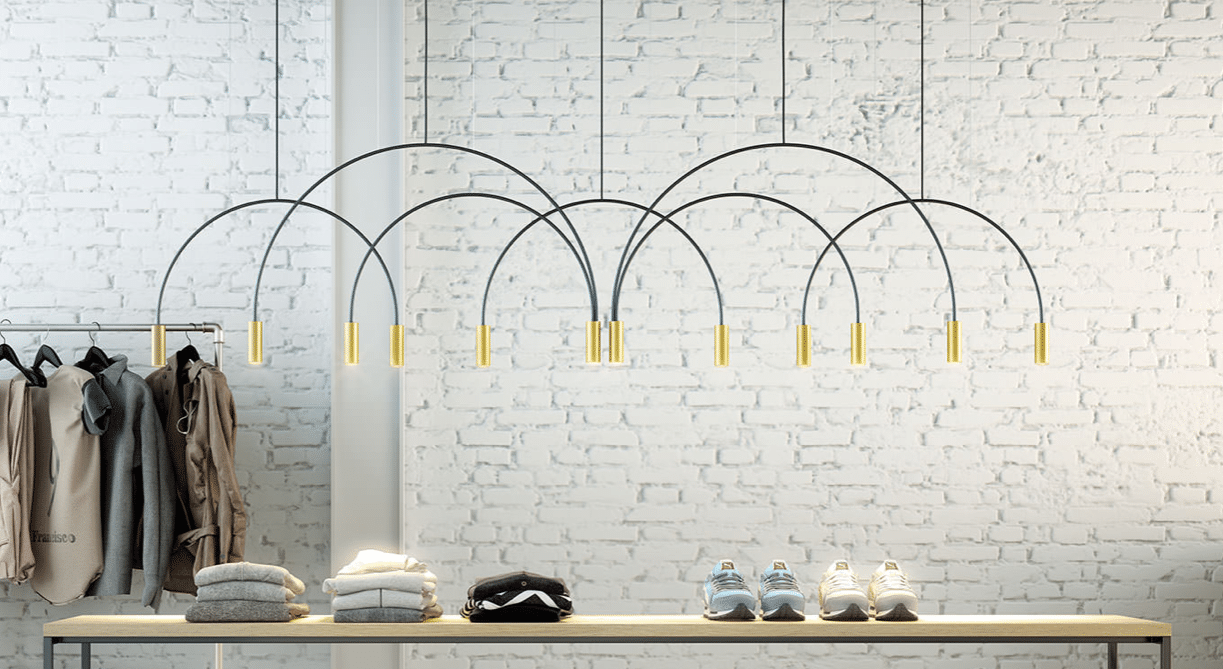 Volta is characterized by its sensual and delicate appearance, by an almost ethereal presence that leads us to imagine that the lamps float, moved by the force generated by the light. With a half-sphere design suspended from the ceiling, Volta is the perfect lamp to place on a table or counter, where the different points of light try to generate an emotional dialogue through their studied and light forms. Likewise, it is also ideal for workspaces, reading environments or passageways, corridors or entrances.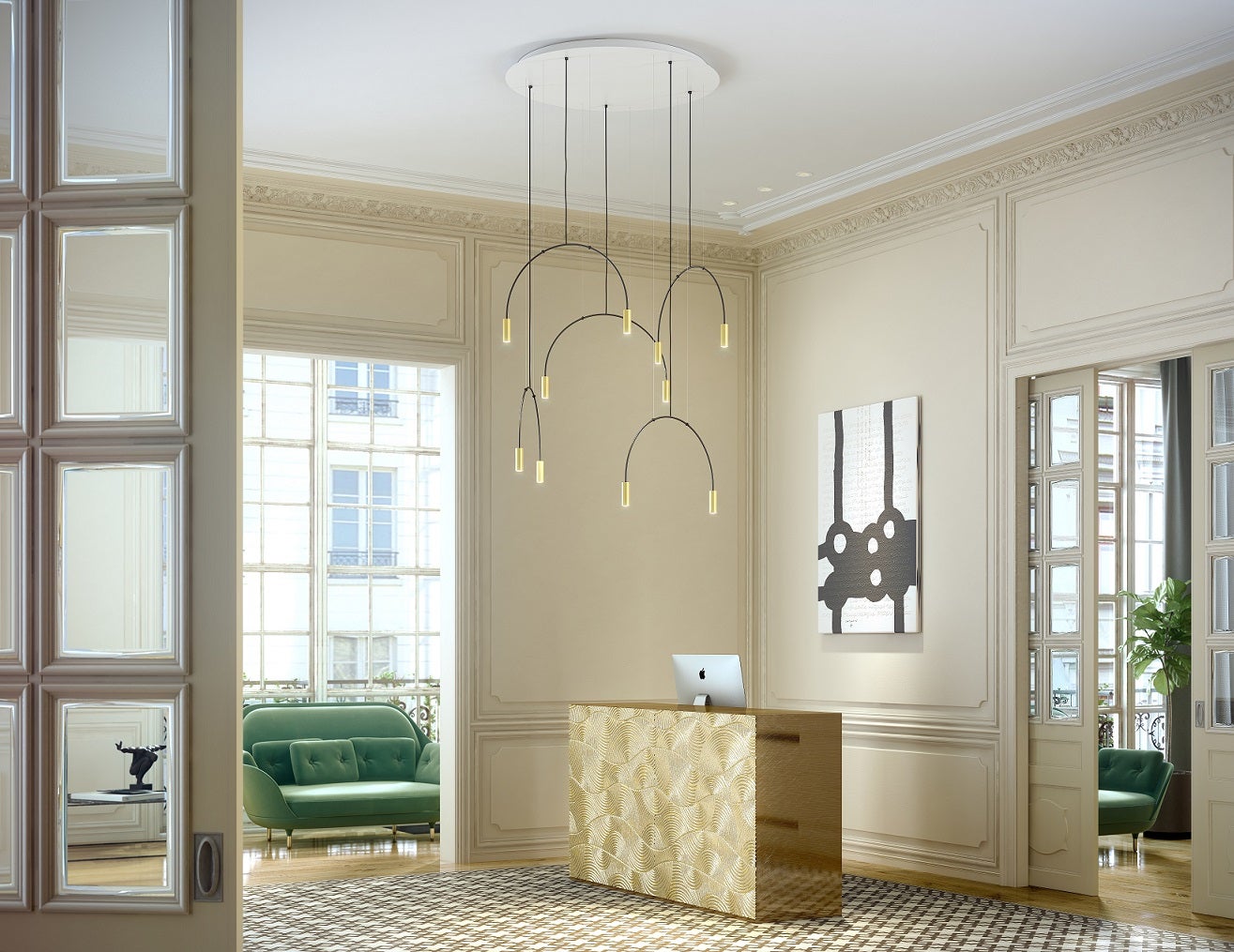 Connecting points of light with form and space is the extreme functionality of the lamp designed by Nahtrang Studio. Adjustable in height and with transparent nylon wires, Volta is defined in black and gold finishes.
Very practical and with an aesthetic perfectly adaptable to all types of rooms, the great versatility of its lines and the various existing designs leads us to create unique environments. With a single piece or by using several luminaires together, we can create very personal spaces, fill rooms with an infinity of subtle waves and generate infinite atmospheres.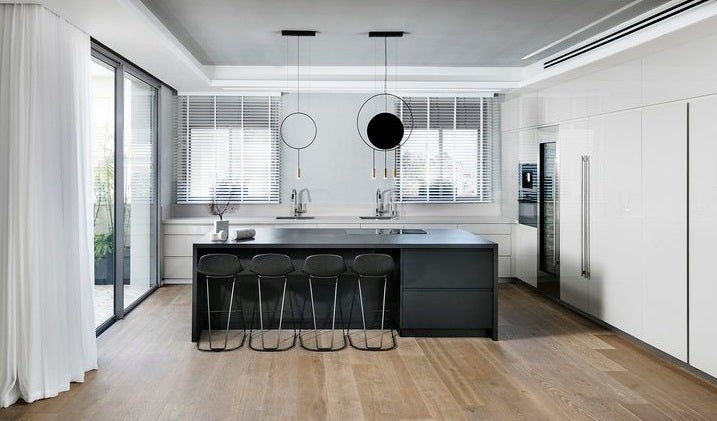 Due to the great success and acceptance in the market of Volta, Estiluz called Nahtrang Studio again and doubled down. Conceived as an evolution of the Volta lamp, the delicate suspended arches now become iconic circles that draw different sets in the air according to their arrangement: Revolta was born. But this time the great innovation comes from the hand of the new empty planes that, optionally, can be filled with color when upholstered and become practical sound absorbing panels.
Customizable according to the arrangement of the circles, the Revolta lamp is equipped with dimmable LED technology and incorporates a tabletop version with the same circular body.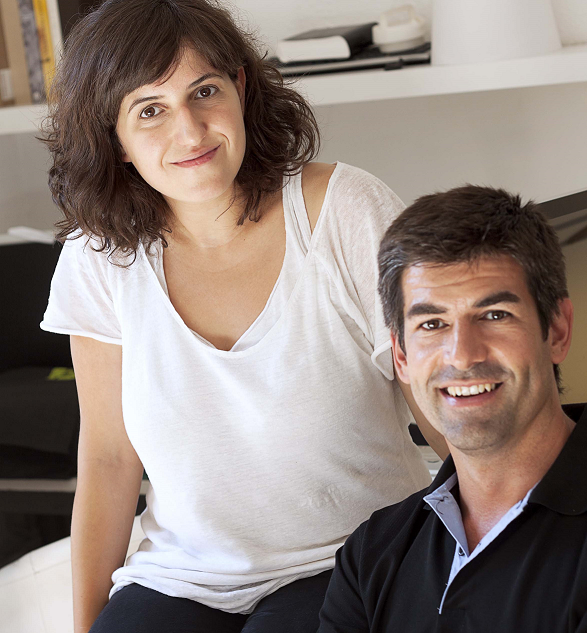 Daniel Vila and Ester Pujol founded Nahtrang Studio in 2004 in Barcelona, with the aim of creating functional pieces that improve their client's daily lives. They have designed and developed products for different industrial sectors such as lighting, furniture, or bathroom accessories, always maintaining their philosophy of creating honest designs with simple lines and direct language. Many of their projects are in the lighting field, something they know very well. Their products are very magical.
"Lighting, for us, is one of the sectors that is capable of generating more emotions and sensations to the user, and we love participating in it."
In 2017 Nahtrang Studio won the NYCxDESIGN award for the Volta lamp, making Estiluz and their products very popular in North America.
Discover all the Estiluz catalogue visiting our special Spanish Design section or surfing our website.